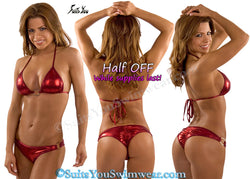 Sale Booty Short Bikini, Scrunch Back, Burgundy Fabric
50% OFF while supplies last!
Scrunch Booty Short Bikini, Burgundy Mist Fabric. A great style to enhance your "booty" or if you just want a cute bikini for that weekend getaway! The bottom is a nice low hip hugger style with a beautiful silver ring on each side, size small. The top is a rounded B cup (in between B cup and C cup), has the same silver ring at the center.
In Stock, Ready to Ship! Half OFF Booty Short Bikinis, Sale Swimsuits, thong bikinis and more by Suits You Sexy Swimwear.
Made in the USA, right here at our store in Clearwater Florida.