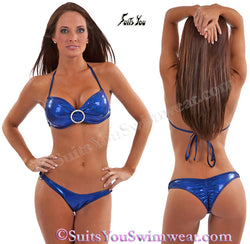 Sale Pro Booty Short Bikini with Bandeau Top, blue fabric
50% OFF while supplies last!
Pro Booty Short Bikini with Crystal Ring Bandeau Top in a beautiful royal blue sparkle fabric. Great style for bikini competitions or if you just want a cute bikini for that weekend getaway! The bottom is a nice low hip hugger style with beautiful crystal rings, size small. The top bandeau style with gather and crystal ring in the center.
In Stock, Ready to Ship! Half OFF Booty Short Bikinis, Sale Swimsuits, thong bikinis and more by Suits You Sexy Swimwear.
Made in the USA, right here at our store in Clearwater Florida.