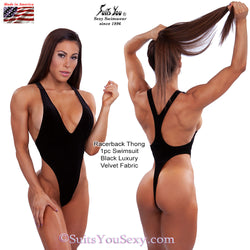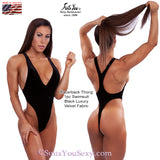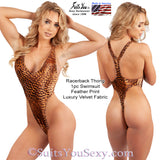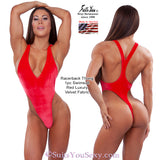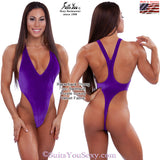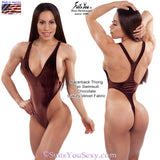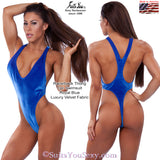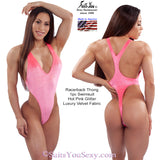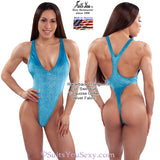 Velvet Fabric Racerback 1 Piece Thong Swimsuits, 9 COLORS.
Unique Velvet Fabric Racerback Thong 1 Piece Swimsuits.
This one is a favorite for Swimwear Models and Photographers who love trending swimwear styles! This one-piece thong swimsuit with high legs is stunning! Unique Retro Style Swimsuit that will make your legs look longer and the thong back will turn heads! The top coverage is intended to show some Side Boob!

Here's an example of wearing it crisscrossed in the front to create more cleavage.
Model: Maureen Blanquisco. 

In Stock, Ready to Ship Velvet Swimsuits! 1-pc swimsuits, and more by Suits You Sexy Swimwear.

View More Examples of Sexy One-Piece Swimsuits on Customers here! 
Made in the USA, right here at our store in Clearwater Florida.