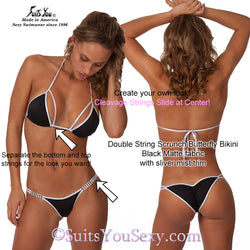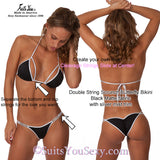 Double Strap Bikini, crystal connectors, scrunch back
Sexy Double Strap Bikinis with Cleavage String Top.
Scrunch Butterfly with double strap sides. The top cleavage strings slide to adjust to your preference. Gorgeous color combinations! This cute little bikini is perfect for the beach, pool party, photo shoots or bikini contests. The bottom has a dip at the top of the back to give your butt a nice "round" look and minimal coverage and double strap sides (size small). The top is a rounded B cup (in between B cup and C cup) with sliding cleavage strings. 
In Stock, Ready to Ship. Unique swimsuits, tiny bikinis, jewel g-strings, thongs and more by Suits You Sexy Swimwear.
Made in the USA, right here at our store in Clearwater Florida.