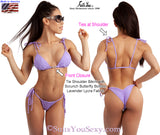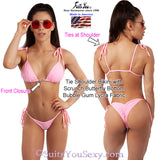 Tie Shoulder Top Bikini with scrunch bottom, 3 colors.
Tie Shoulder Top Bikini with tie-side scrunch bottom.
Unique Top has a few different elements to it!
Ties at the shoulder and has a Front Closure and back strap! 
Scrunch Butterfly with tie-sides. Beautiful Solid Colors Lycra fabrics. This sexy little bikini is perfect for the beach, pool party, photoshoots, or bikini contests. The bottom has a dip at the top of the back to give you a nice "round" look and minimal coverage (size small). The top is a rounded B cup (in between B cup and C cup).
In Stock, Ready to Ship. Unique swimsuits, tiny bikinis, jewel g-strings, thongs, and more by Suits You Sexy Swimwear.  
Made in the USA, right here at our store in Clearwater Florida.